Winters too warm to skate?
Using data submitted by RinkWatchers during our first two winters, researchers at Wilfrid Laurier University estimated the likely impacts of global warming on outdoor skating opportunities in Calgary, Montreal and Toronto in coming decades. They found that rinks are most skateable when average daily temperatures are colder than -10°C, and that their skateability deteriorates rapidly as temperatures approach -5°C (Figure 1). The number of days each year cold enough to skate is expected to decline in coming decades because of human-induced climate change. By combining RinkWatch data with computer simulations of future climate conditions, the researchers were able to estimate the decline in skating opportunities. Note that the changes will not be the same everywhere; the loss in skating days will be greater in Toronto and Montreal than in Calgary, due to regional differences in the rate of warming.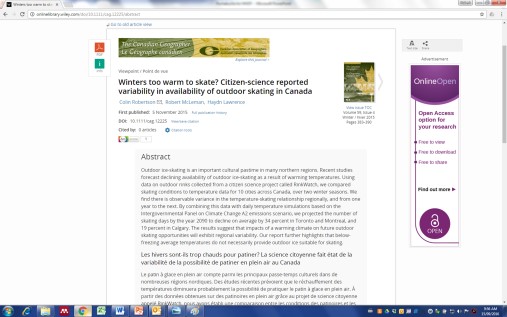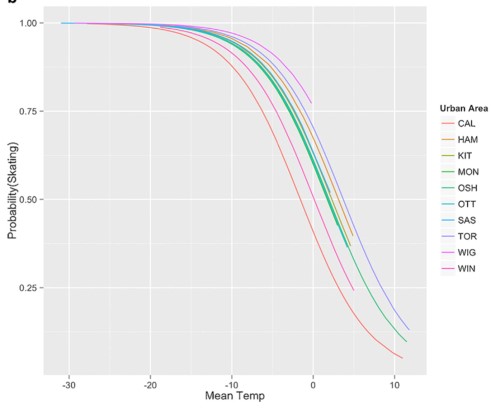 Curves estimating the probability of skating given particular temperatures, for ten Canadian cities, based on RinkWatch data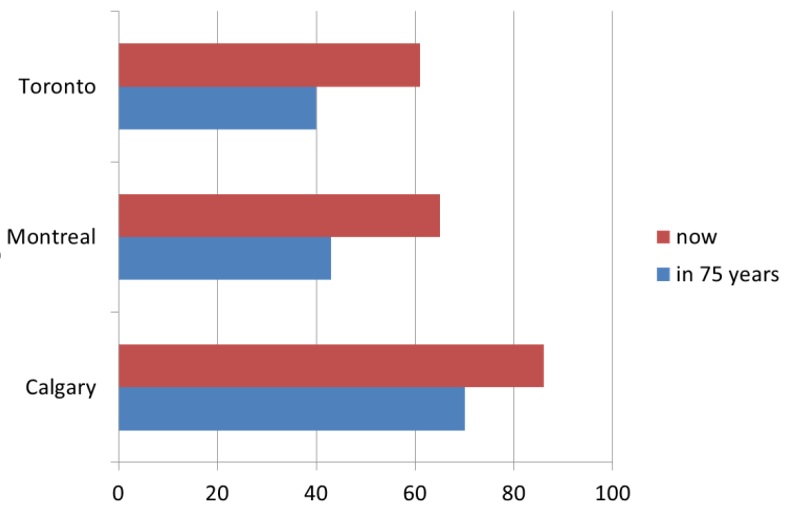 Average annual skating days
Why do people build backyard rinks?
Dedicated RinkWatchers will recall that back in January, WLU kinesiology student Ashleigh Frederickson asked you to participate in an online survey about your motivations for keeping an outdoor rink. Of the 283 people who were actively using the RinkWatch site at that moment, 48 responded to the survey, which is a good response rate and a large enough sample for the answers to have statistical significance. 40 of the survey participants were Canadian and the remainder from the US. There were no significant differences between the answers given by Americans and Canadians.
Show Survey Data
Other research studies